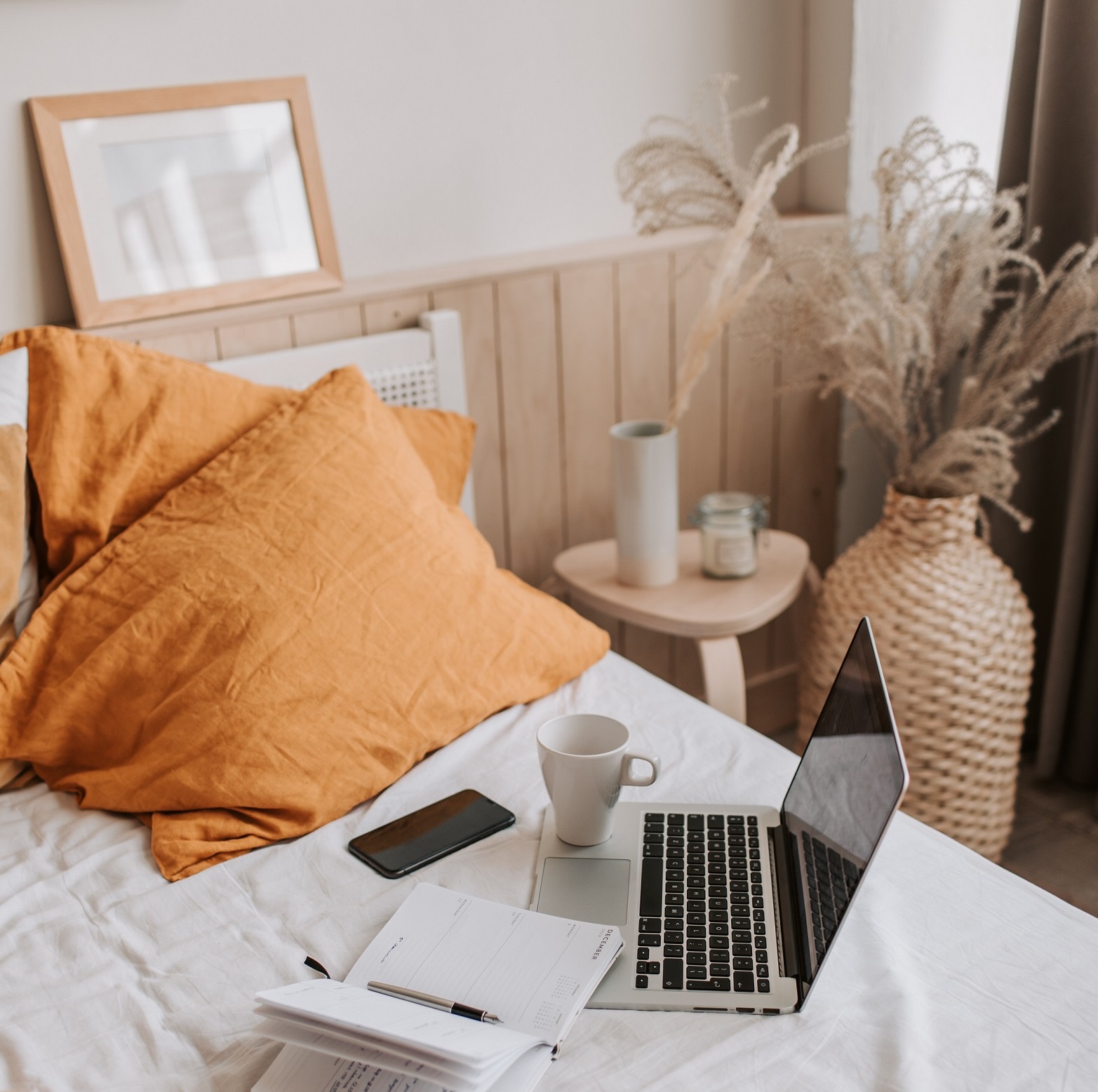 2023 Home Décor Trends
March 28, 2023
It's 2023, and this year brings us a mix of existing and new home décor trends. Influenced by social and economic changes, today's home décor style is all about creating a home that's comfortable yet stylish – with a bit of nature and nostalgia thrown in. Read on to learn how you can incorporate some of these 2023 décor trends in your own home.
Top Home Decorating Trends for 2023
Micro Luxury
More and more, people are opting for a luxurious look in their homes without paying a lot of money. This year, you'll see elements of glamour concentrated in one room or via single focal point in the room. This could mean a faux fur throw rug in the bedroom or a solid wood essential oil wall display in the bathroom. Other popular micro luxury furnishings include layered lighting and oversized pillows in rich materials. All of these accents add a sense of warmth, calmness, and elegance to your living area without straining your budget.
At Timber Made Design Company, we offer a wide range of items to achieve the micro luxury look — including metal wall plant holders and solid wood sofa tables.
Sustainable Design Choices
Over the past decade, consumers have favored environmentally friendly interior design options. This newer home décor trend focuses on bringing the outside in and incorporating natural elements inside our homes. These items not only produce a calming effect, but they also benefit the environment. Sustainable design options include recycled furniture, jute rugs, and fabrics made from natural materials like linen and wool.
When it comes to sustainable design, local handmade products are taking precedence over mass-produced items sold in chains. For example, consumers in colder climates are increasingly purchasing products made from wool, sheepskin, and wood.
At Timber Made, we source local, eco-friendly materials and use the environment to inspire our designs. Based in Lancaster, PA, our team of skilled crafters utilize pine, maple, and poplar to handcraft shelves, stools, kitchen tables, and other wooden furniture. Solid wood furniture is both more durable and better for the environment than acrylic, particleboard, or plywood.
Statement Lighting
Another home décor trend in 2023 is the use of statement lighting. Gone are the days of traditional pendant lights: Many homeowners are looking to make more of a statement with oversized light fixtures and artistic lighting in varying geometric designs.
Ambient lighting is also becoming more popular than ever, especially with the rise of retreat-like homes. Look for Himalayan salt lamps, large candles in metal candle holders, and floor lamps to add a warm, cozy touch to your space.
Statement lamps are also becoming more common. These lamps may feature elaborate shades in pleated linen or traditional fabrics and patterns.
Wellness Décor
Although it's not a traditional element of interior design, wellness has become a priority for Americans these past few years. The pandemic has undoubtedly played a large part in this trend. For this reason, the domestic space has become a haven for many, prompting furnishings that calm, destress, and inspire.
Wellness design works to enhance well-being by improving air quality, encouraging movement, and allowing natural sunlight or artificial light to brighten both the room and mood.
This look embraces organic materials such as cotton, wool, silk, rattan, and clay as well as earth tones and warm neutrals.
Wellness décor goes hand-in-hand with natural design elements like solid wood furniture and accessories – including wooden business card holders, essential oil trays, bottle openers, and even dog bowl stands. It also includes fountains, aquariums, and planters.
Minimalism
In recent months, we've seen our economy experiencing levels of inflation that haven't been seen in 40 years. Meanwhile, remote work is on the rise. As Americans look to save money, they also strive to conserve space. This includes restructuring living spaces to incorporate home offices and spending more time indoors to limit discretionary spending.
Because of these factors, we see the continued trend of minimalism mixed with multifunctional design: the incorporation of pieces that can perform double-duty. Examples include futons and bedding with drawers, kitchen islands that can serve as dining areas, and side tables that can function as seating.
Timber Made's minimalist shelves, floating shelves, hook and hook racks, ceiling planters, and wall planters all embrace minimalist culture. These items allow you to make the most of your space as well as your budget.
Back in Black
Black is back and in full swing. Gothic design has been gaining popularity in recent years, and this trend is growing. An extension of modern black-and-white style, gothic design encourages a greater indulgence through pieces like arched mirrors, sweeping curtains, and fancy chandeliers.
That said, black is becoming an increasingly popular color choice even without the gothic aesthetic. Black accent pieces are being used more and more to create contrast and add an air of class to the room. These furnishings work especially well when paired with white, silver, and beige.
At Timber Made, you'll find many beautiful pieces that are handcrafted from solid wood and accented with black metal or other black elements. These include wooden bar stools, kitchen tables, mirrors, and shelves.
That '70s Style
2023 also brings with it a taste of the '70s. This means furnishings dressed in warm, earthy tones, organic shapes, fun patterns, and softer fabrics. Although you'll find these nostalgic elements in materials like ceramics and glass, wood will dominate the scene.
The return of '70s décor also means that cold, rigid surfaces and straight lines will be replaced with relaxed curves and arches.
To bring some vintage style into your home while embracing modern minimalist culture, consider Timber Made's extensive range of wooden shelving, furniture, and home décor. To complement these pieces, we offer accessories like arched shelves, oval shelves, hoop shelves, and metal wall ring plant holders—all featuring stylish curves for that mid-century look.
Incorporating 2023 Home Décor Trends
As you can see, 2023 is all about incorporating natural materials, sustainable design, and a mix of vintage and modern pieces into your home.
At Timber Made, we create unique farmhouse décor that matches perfectly with these trends. These beautiful products are sourced from our local Lancaster, Pennsylvania community and are handcrafted with solid wood and metal to stand the test of time.
If you have any questions or need help ordering, please don't hesitate to contact our team here at Timber Made. We're always happy to help! You can reach us at 717-203-4779 or email us at [email protected]
Related Articles