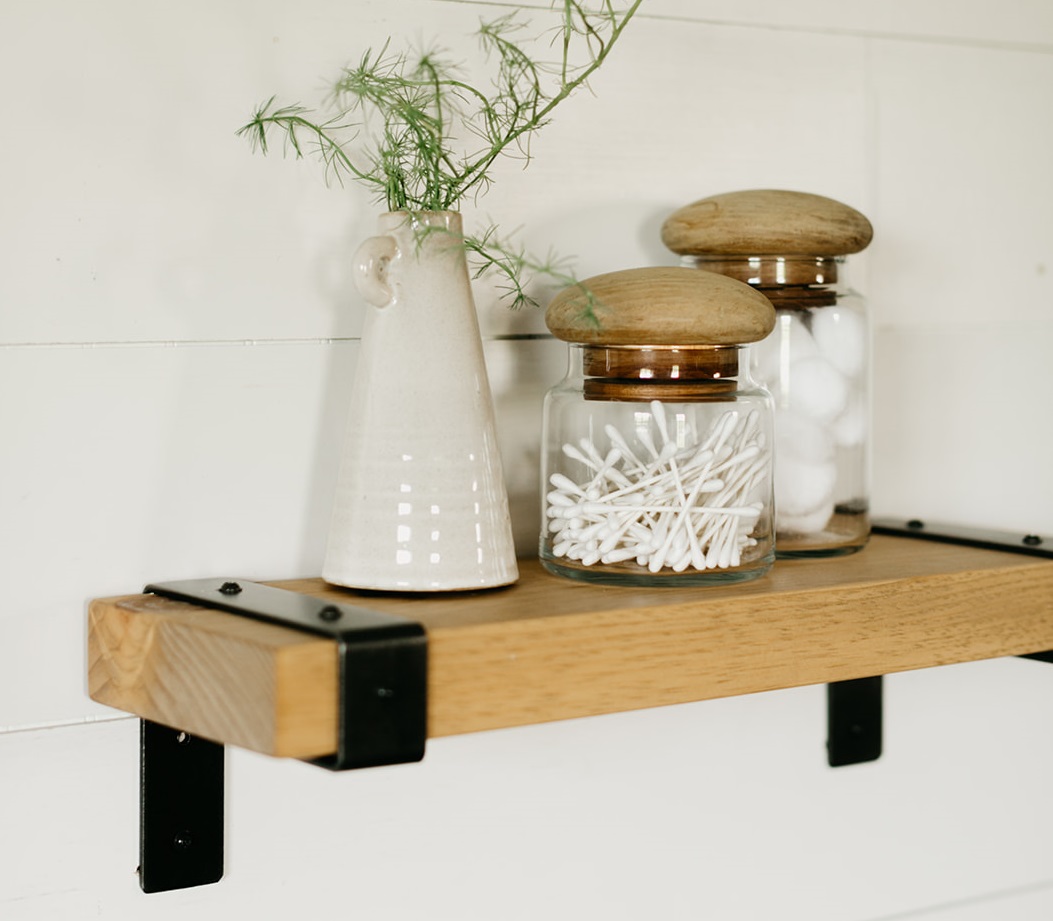 What to Put on Bathroom Shelves: Making the Most of Your Space
April 24, 2023
Shelves in the bathroom offer a great way to organize and beautify your toiletry area. But what are some of the items that you can store and conveniently access without cluttering your space? If you are wondering what to put on your bathroom shelf, read on for some organization tips.
The Perfect Items to Store on Your Bathroom Shelf
By using floating shelves, hexagon shelves, and minimalistic shelves, you can store and display items that would otherwise take up valuable floor space or be tucked away in a drawer. Here are some examples:
Towels
Plush towels can add a pop of color and texture to your bathroom. Fold or roll them neatly and stack them on the shelves for easy access. For both aesthetic appeal and practicality, it's a good idea to invest in higher quality towels that are soft and absorbent. Also remember to select colors that coordinate with the room's design scheme.
Toiletries
Keeping your toiletries organized and in one place can be a lifesaver in the morning rush. Use a tray or basket to store your hairbrush, razor, face cleanser, and other toiletries on your shelves. Group similar items together – for example, store your lotions with your moisturizers or your toothpaste with your mouthwash. This will help you to find and access these items when you need them the most.
Baskets are a great way to store smaller items, such as makeup, hair accessories, and other grooming tools. Woven baskets, in particular, add texture and warmth to your bathroom's décor. For items like cotton balls, Q-tips, floss picks, and bath salts, glass canisters or jars work well and add a rustic appeal to your bathroom décor. For a seamless look, color coordinate your baskets, trays, and jars.
Pro tip: Use tiered floating shelves like the ones from Timber Made to maximize vertical space and keep your items within reach. These beautiful shelves are handcrafted from solid wood and offer a clean, modern aesthetic for your bathroom. Consider deep floating shelves for even more storage space.
Books and magazines
For those who enjoy a good read in the bathroom, shelves provide the perfect place to store reading material. They are also a convenient way to keep your books and magazines dry and neatly organized.
Aromatherapy oils
Essential oils can help you to create a spa-like atmosphere in your bathroom. Lavender, peppermint, chamomile, and other aromatherapy oils promote relaxation and lend a calming atmosphere to your bathroom. Display them on your shelves with a diffuser or oil burner for an elegant touch. For a unique and visually appealing display for your oils, check out Timber Made's essential oil trays.
Candles
Candles are another great addition to the spa-like bathroom and can help you to relax after a long day. Choose candles with calming scents such as lavender, eucalyptus, or chamomile. Place them in glass containers or holders to protect the shelves from wax drips.
Artwork
Small, framed prints and other artwork can be a great way to add personality and style to your bathroom. Be sure to choose pieces that are moisture-resistant, such as canvas prints or metal sculptures. Grouping artwork in odd-numbered sets, like three or five, creates a striking visual impact.
Timber Made carries photo ledge shelves designed specifically for displaying artwork. These beautiful pieces are hand-crafted from distressed solid wood and feature a lip in the front to keep your artwork securely displayed.
Decorative plants
Adding some greenery to your bathroom can provide a refreshing and rejuvenating vibe. Studies have shown that plants can help to reduce stress levels and improve air quality. Small succulents such as aloe vera or snake plants require minimal sunlight and can thrive in the humid environment of your bathroom.
If you're looking for more shelf space for everyday items, a metal ceiling planter can be used to hang a plant above your shelf. Alternatively, you can hang trailing plants like pothos or ivy from your shelves; this will create a natural curtain effect.
Where to Buy Bathroom Shelves
Whether you're looking to organize everyday essentials, showcase decorative items, or create a calming atmosphere, shelves offer a versatile and practical addition to any bathroom. But now that you know what to put on your bathroom shelves, where do you buy them? Timber Made carries a variety of floating, hexagon, and minimalistic shelves that are perfect for adding style and organizing items in your bathroom.
Hand-crafted from maple, pine, and poplar wood, these wooden shelves offer a rustic appeal and are available in a range of sizes and stains.
Choose the model that best matches your aesthetic:
To view all of our wooden shelving options, visit our Shelves page. With our large selection, you're sure to find the perfect addition for your bathroom – and free up valuable floor and counter space in the process!
If you have any questions or need help ordering, please don't hesitate to contact our team here at Timber Made. We're always happy to help! You can reach us at 717-203-4779 or email us at [email protected]
Related Articles