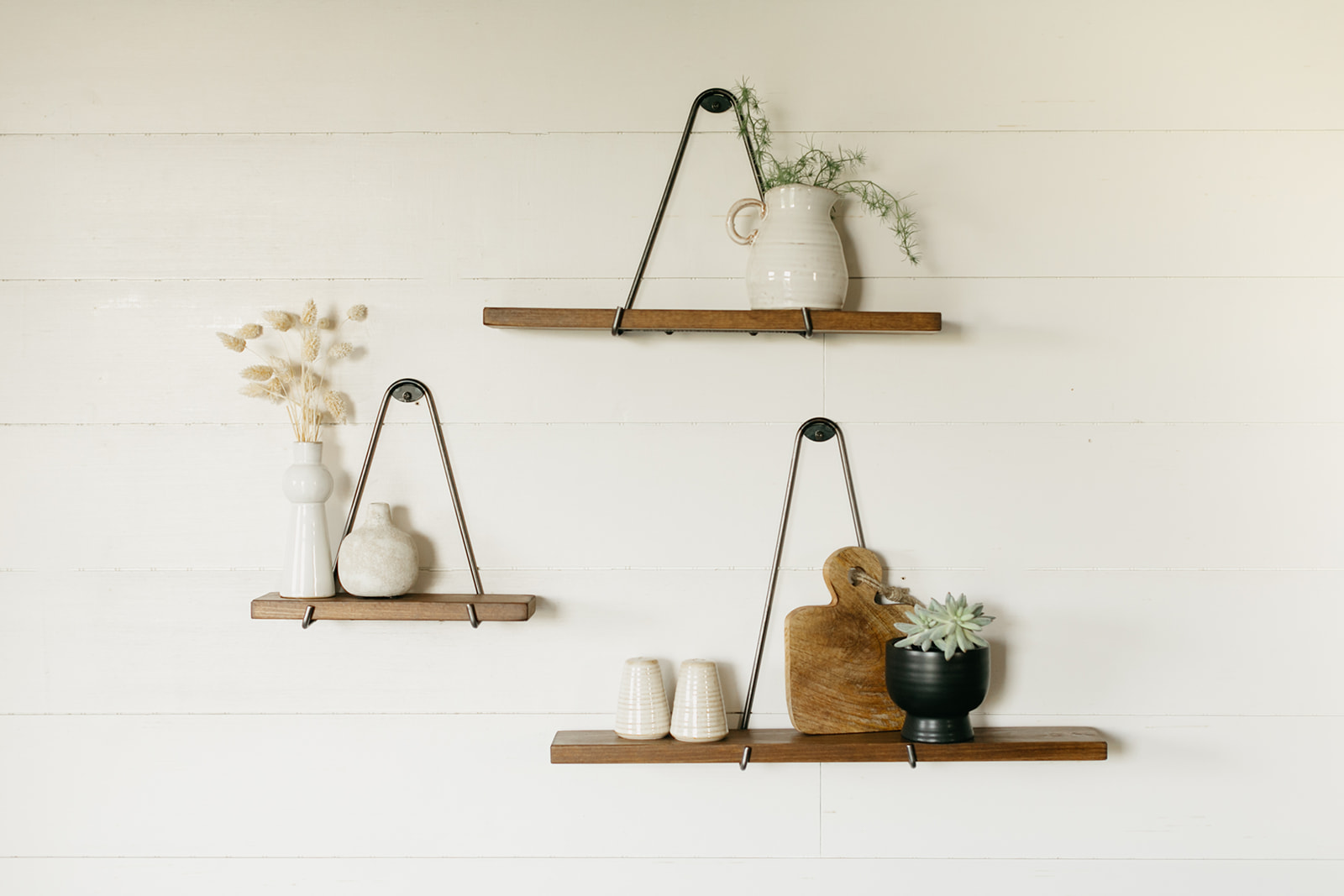 How to Organize Small Spaces with Minimalist Shelves
December 19, 2022
As apartment sizes shrink and the cost of living increases, many of us are looking for ways to make the most of our small spaces. Even if you have a larger home, you may want to find an efficient way to store items in your bathroom, kitchen, dining room, or other area. One great way to do this is by utilizing minimalistic shelves like the ones offered by Timber Made. Minimalist wall shelves are a simple and effective way to add storage without consuming floor space.
Think Vertically
When it comes to saving space, it's all about thinking vertically. Before you make any purchases, it is important to measure the area where you plan on hanging each shelf. When measuring for wall-mounted minimalist shelves, make sure to leave a bit of extra room above and below the shelf so that items do not appear overcrowded.
You should also strategize about what items to display. For example, if you want to display a vase or jar, measure the diameter to ensure it fits not only the shelf's length, but also depth. Minimalistic shelves at Timber Made run 11" to 30" in length but have a smaller depth of 3.5". While this may seem small, this is standard for this type of shelf and is actually large enough to store a variety of items. Also be sure to account for the height of your shelf, leaving enough space above and below to accommodate the shelf's complete architecture as well as the items you will be storing.
Planning ahead will help you to determine where the shelves will go as well as how many you will need.
What Will You Store?
Minimalist shelves are a great way to display photographs, beauty products, candles, mugs, and more.
Consider adding these shelves above your desk or bedside table. They can be used as nightstands or as extra storage for items like eyeglasses and phones.
Similarly, try adding narrow shelves in tight spaces — for example, between cabinets. Shelves in these areas are ideal for knickknacks and artistic displays.
Minimalist shelves can also be added in your bathroom to store makeup, soap, and other items.
These shelves work especially well when displaying collectibles and other precious items in living rooms.
One of the benefits of minimalist wall shelves is that you can control how high they are mounted; this way, your belongings will stay secure around children or pets.
Think Functionally
When organizing your small space, try to group similar items on the same shelf so they're easy to find when needed – or consider grouping items of the same color together. Doing so will help to keep your space organized as well as aesthetically pleasing.
Remember, when using a minimalist shelf, avoid storing anything too heavy. As much as possible, try to equally distribute the weight of the products you are storing; this way, the shelf will remain secure and level.
Choose Your Minimalist Shelves Wisely
There are two main things to consider when deciding on a shelf for your space: material and size. Wooden shelves are always a safe bet and have several advantages. First, wood blends seamlessly into any background without detracting from other elements like furniture or artwork. Wood also has a calming effect and adds warmth and texture to any room.
Timber Made offers several hand-carved minimalistic shelves with beautiful metal accents. These shelves are made of solid wood and are available in a variety of stains and sizing options. Plus, they are easy to hang: All you need is one or two screws.
Conclusion
Minimalist shelves are a great way to make the most out of small spaces without sacrificing style or function. These types of shelves are especially useful because they offer plenty of storage while leaving ample wall space; this way, your eyes aren't immediately drawn toward them. Minimalist wall shelves also create an illusion of extra floor space, which makes even the tiniest rooms appear larger.
With some thoughtful planning and consideration, you'll soon have an organized and efficient home that takes advantage of every square inch.
If you have any questions, please don't hesitate to contact our team here at Timber Made. We're always happy to help! You can reach us at 717-203-4779 or email us at [email protected].
Related Articles